Tourism Website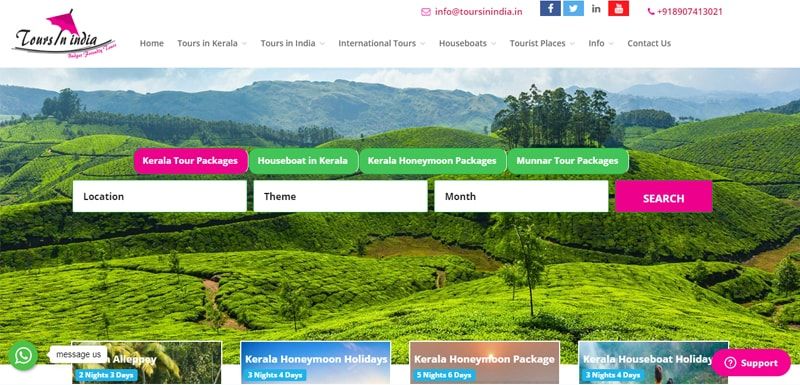 Tourism in India has been growing exponentially in the last decade. One reason is that the Ministry of Tourism has identified the immense potential of tourism in India during the holiday season.India Travel Tourism has grown rapidly with the influx of tourists from all over the world to the rich culture, heritage and incredible natural beauty of India.With its dazzling hill stations, picturesque beaches, historical monuments, golden deserts, tranquil lakes, pilgrimage centers, rich wildlife and colorful fairs, India tourism attracts the heart of every tourist. In addition, the variety of festivals, lively markets, the vibrant lifestyle of the ibra, and the traditional Indian hospitality make your experience as an Indian tourist a memorable and exciting experience.
Services
Que Management
Contact Enquiry Form
Map Search
Group booking request
Hotelcity Mapping
User Management
Advanced B2B
Content Management System
Tourism Website Design and Development in Kochi
Nestsoft technology develops with partners in content and promotions, remove barriers, and increase efficiency and execution speed by empowering partners with a wide range of collaborative solutions.We at Nestsoft have a lot of knowledge when it comes to designing and developing a beautiful travel & tourism website that attracts travel, adventure and vacation. Our developers have extensive technical knowledge and a passion for building travel-specific websites. We also offer fully functional tourism portal development services tailored to your custom needs.
Nestsoft works as a full-service web design and optimization agency with extensive experience in the travel industry. We don't have to outsource your work to foreigners or robots. We are real people and have a real passion for what we do.With the growing demands of tourism portals, we keep in mind all the necessary points to make the expertise of clients a pleasant-able one as well so by using the advanced options they will notice their better half from any place across the world.